To Prehammer and Oldhammer aficionado's, it's well known the GW Elf look stems from early pre GW figures, which were in turn based on the art of
Rodney Matthews
. I think the first Matthewsesque style elves released were Minifigs Aureola Rococo High Elves and Tunnel Elves, but Dragontooth also released some similar elves with tall helmets.
To me Rodney Matthews is everything that defines my early fantasy wargaming years.My bedroom walls were plastered with his posters and cut up calendars (as well as pictures of Kate Bush) , and I owned many LP'S featuring his cover art. Nowadays I only have a couple of of RM'S posters signed and framed in the attic, but a number of figures based on his work.
Here we have a force of Boneymaloneans, a law unto themselves, fighting for whoever can serves their ends the most, and then betraying them more often than not.
The heater shields work a lot better on the figure "upside down".
I rather like the large dragonspears in the front rank. The archers carry bone bows.
The Three Witch Brothers
The cavalry mounts are clearly based on The People of the Pines by Matthews. The riders in the painting are more like the Minifigs Tunnel Elves, of which I have a goodly number which need repainting.
There are 2 horse variants. The one on the left is quite fragile and I suspect Minifigs changed the horse barding to make the casting sturdier.
Here we have Eric of Boneymaloney on his trusty dragon. Almost a direct copy of The Dragon Lord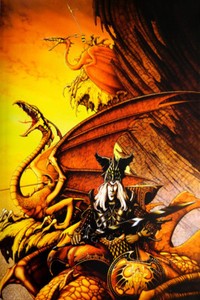 Below is a different Dragon Lord on a smaller dragon.